NEW Hydraulic Pump for Ford New Holland Tractor 2000 2110 2120 2150 2300 231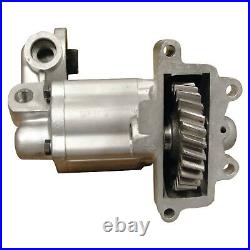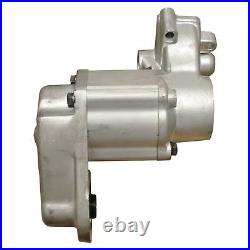 NEW Hydraulic Pump for Ford New Holland Tractor 2000 2110 2120 2150 2300 231. Complete Tractor Hydraulic Pumps Hydraulic pumps must be in prime working condition to smoothly operate tractor implements. If your hydraulic pump has seen better days, Complete Tractor is your source for precision engineered pumps that match OEM counterparts for fit and performance.

Our pumps will generate pressure equal to the original pump that came with your machinery, enabling the hydraulic system to achieve full power and optimal operating efficiency. Hydraulic pumps convert mechanical power into hydraulic energy. These pumps work in two ways: 1 A vacuum is created at the pump inlet, which forces liquid to flow from the reservoir to the inlet line of the pump, and 2 The liquid travels to the pump outlet and into the hydraulic system, generating power to run the hydraulic system. Complete Tractor's hydraulic pumps match OEM specifications for listed applications. That means your new hydraulic pump will fit exactly as the old one that's being replaced, making installation a breeze.

That's why we give you topline quality at a price that beats many competitors. Make sure you get a pump that meets your expectations for performance and long service life at a price that goes easy on the wallet.

Our hydraulic pumps are the real deal when it comes to value. If your new hydraulic pump should fail to live up to your expectations, just get in touch with us and we'll do right by you.

Hydraulic Pump Notes: Capacity is 9.5 GPM at 2400 RPM (7.1 GPM at 1800 RPM), 2400 PSI Maximum Pressure. Will not replace piston type pump, gear type only. Requires mounting gasket E4NN911AA, not included. 2-4000 MODELS (3 Cyl ONLY).

Ford/New Holland: 83996272, 83996336, E1NN600AA, E1NN600AB, X-A-E1NN600AA, X-A-E2NN600AB, X-ESL11276, X-ESL13669, X-FE1NN600AA, X-FE2NN600AB, X-S. 2000 Series 3 Cyl 65-74.

3000 Series 3 Cyl 65-74. Unless otherwise specified in the item listing on our website, on the receipt or packing slip, or in the following terms, Complete Tractor will accept qualified and conforming products for replacement for the period of 1 (one) year. Condition and free from damage of any type, including, but not limited to dents, scratches, cracks, abuse, defacement or indication of removed screws/fasteners or seals. Complete Tractor shall not be held liable for packages lost in transit. The customer may use this label to return the item to Complete Tractor free of charge.

After the item is received by Complete Tractor for processing, Complete Tractor will send out a replacement unit. If you have a problem, we will take every step to assist you. NEW Brake Master Cylinder for Case International MX135 With CUMMINS 5.9L ENG. NEW Brake Master Cylinder for Case International MX120 With CUMMINS 5.9L ENG. NEW Master Cylinder for Case International Tractor 2400B GAS.

NEW Brake Master Cylinder for Case International 5240 5250 MX100 With 5.9L ENG. This listing is currently undergoing maintenance, we apologise for any inconvenience caused.