Hydraulic Hand Pump 900CC 10000PSI withPressure Guage for Hydraulic Lifting Pump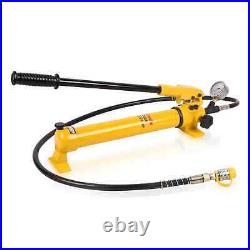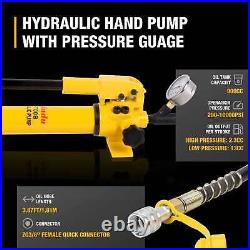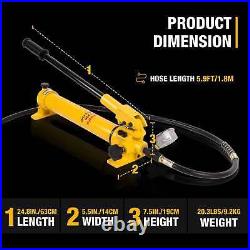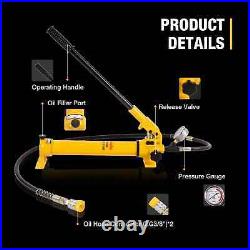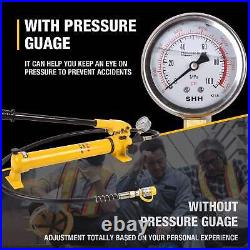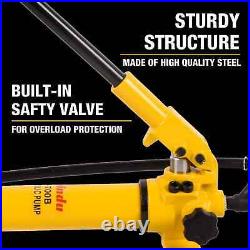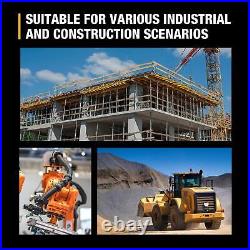 - LCyindu hydraulic hand pump is equipped with an accurate pressure gauge to help observe the pressure of the pump at any time. The maximum pressure is up to 100 Mpa. - Our hydraulic hand pump includes an extra long handle with rubberized grip for comfort and easy operation. Easily adapts to hoses, rams, pumps, spreaders, and other accessories using common ZG 3/8 inch fittings. Dust-proof Cap helps avoid dust from entering into the fitting portion when the connector is not connected. - The hand hydraulic pump can be used for various hydraulic equipment, asuch as punching machine, cutting machine, bending machine, hydraulic jack, hydraulic puller, split hydraulic clamp, flange expander, split ram and other separate hydraulic equipment. Steel structure, sturdy and durable. Two-stage hydraulic desigh to improve working efliciency. Built-in safty valve for overload protection. Conrenient design of refueling port. Package Dimension: 29.3 x 7.5 x 7.5 inch / 74.5 x 19 x 19 cm. Package Weight: 24.5 lbs / 11.1 kg. High pressure: 2.3cc(Oil Output Per Stroke). Low pressure: 13cc(Oil Output Per Stroke). Oil Pipe Length: 5.9ft/1.8m. Connector: ZG3/8 female quick connector. 1 x Hydraulic Hand Pump.

All we ask is you send it back in the same condition it was received - new and un-used. Logistical claims must be filed within 30 days of received the product; exchanges in these cases will be handled promptly and at? No cost to the customer. However, any return that is NOT defective or NOT received in error, is the responsibility of the customer.

Dailyworth has always been our mission to offer viable solution for MRO & outdoor products and automobile accessories adhering to the highest standards in quality, materials and workmanship, while enabling our clients to enjoy substantial profit and maximize value for the end user. Our friendly staff are available during these hours.