5113283 HYDRAULIC PUMP for FIAT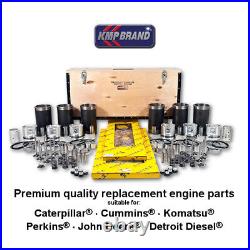 New KMP BRAND® HYDRAULIC PUMP aftermarket replacement part. Compatible Models: 1000 SUPER, 1000DT, 1000N, 1000S, 100-90, 100-90DT, 110-90, 110-90DT, 115-90, 115-90DT, 1180, 1180DT, 1280, 1280DT, 130-90, 130-90DT, 1380, 1380DT, 140-90, 140-90DT, 1580, 1580DT, 160-90, 160-90DT, 180-90, 180-90DT, 1880, 1880DT, 50-86, 50-86V, 55-66, 55-66DTLP, 55-86F, 55-86FDT, 55-86V, 55-86VDT, 55-88, 55-88DT, 60-66, 60-66DT, 60-76F, 60-76FDT, 60-86F, 60-86FDT, 60-86V, 60-86VDT, 60-88, 60-88DT, 60-90, 60-93, 60-93DT, 60-94, 65-66, 65-66DT, 65-88, 65-88DT, 65-90, 65-90DT, 65-93, 65-93DT, 65-94, 65-94DT, 70-66, 70-66DT, 70-66F, 70-66LP, 70-76DT, 70-76F, 70-76LP, 70-76V, 70-88, 70-88DT, 70-90, 70-90DT, 72-86F, 72-86LP, 72-93, 72-93DT, 72-94, 72-94DT, 80-66, 80-66DT, 80-66F, 80-76DT, 80-76F, 80-88, 80-88DT, 80-90, 80-90DT, 82-86DT, 82-86F, 82-86LP, 82-93, 82-93DT, 82-94, 82-94DT, 85-90, 85-90DT, 88-93, 88-93DT, 88-94, 88-94DT, 90-90, 90-90DT.

5113283 HYDRAULIC PUMP for FIAT®. It is mandatory to check part numbers prior to ordering. Is a global company renowned for supplying high quality KMP Brand replacement engine parts suitable for heavy duty Caterpillar.

KMP is recognised around the world for exceptional quality backed with dedicated service and support. These dispatch times apply to all our listings unless otherwise stated. Items will be delivered by the carrier of our choosing. If you are out when the courier arrives, they may leave a card with contact number for you to call and arrange redelivery or attempt the following day and make a maximum of three attempts.

We will inform you if we become aware of an unexpected delay. However, if you do need to return anything for any reason then please see the info below. Unfortunately, due to our automated system, we are unable to offer you a replacement unit, however, you are welcome to place a new order in case the item is still required. What happens if I change my mind? What if the item is not as described in the listing, arrives damaged, is malfunctioning or missing parts?

("KMP") are warranted to be free from defects in material and manufacture when correctly installed and operated under normal use and conditions in a properly serviced and maintained machine. During this period "KMP" will, at its discretion, replace any Parts which are found upon its inspection to be defective in material or manufacture. Replacement Parts will be provided to the customer at a place of business of "KMP" or other establishment authorised by "KMP". Fitting of "KMP" parts must be in accordance with the latest version of the OEM workshop and installation manuals. All lubricants, fuel and coolant used must be to the OEM specification. "KMP" does not warrant any of its Parts that have been altered from the original specifications, misused, or damaged by accident or negligence or where the engine specification has been changed from the OEM standard eg. Increased power, non-standard fuel pump settings etc. All other claims for loss arising out of the failure of any Part are excluded, including claims for direct or indirect economic or moral loss and special or consequential damages. We will normally respond within 48 hours, however, during peak time's response times may vary.